Governor Godwin Obaseki has revealed he has a good relationship with Buhari –
Obaseki had in June defected to PDP after being disqualified by APC –
The governor said his relationship with President Buhari is that of a father and son
Ahead of the incoming governorship election in Edo state, Governor Godwin Obaseki has revealed the relationship between him and President Muhammadu Buhari.
His relationship with President Buhari is that of a father and son. He said that he was on a zoom meeting with the president, during which they engaged on development issues affecting Edo people and Nigerians.
Obaseki noted that he and the president also discussed measures to manage the spread of the COVID-19 pandemic. Governor Godwin Obaseki of Edo state during a virtual meeting with President Muhammadu Buhari.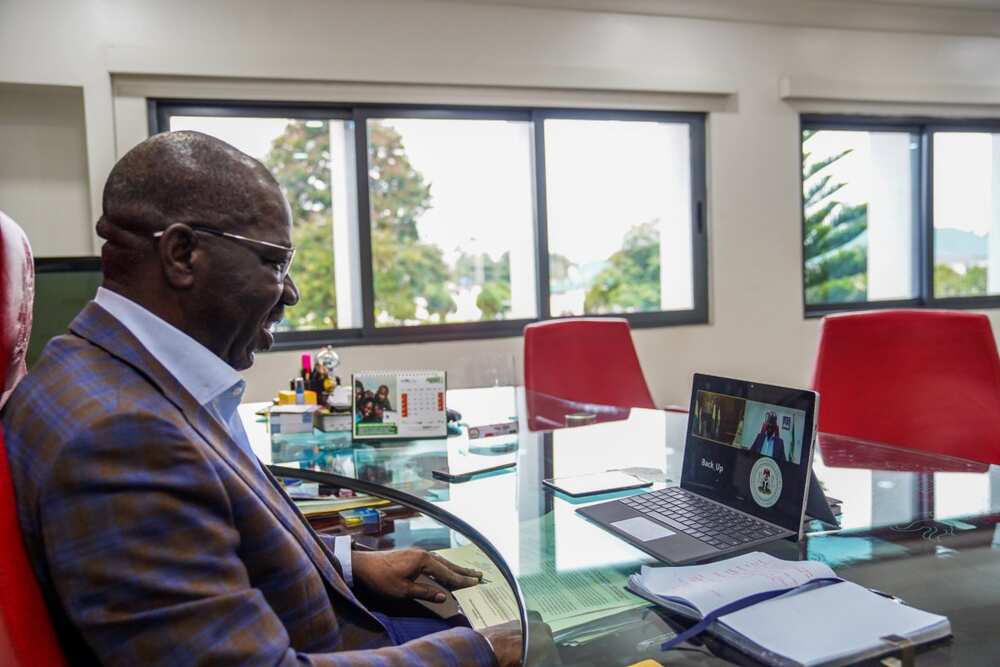 Credit: Twitter/Godwin Obaseki. Source: Twitter
The Nigeria Centre for Disease Control (NCDC) has said that new evidence suggests that COVID-19 may be transmitted through the air. Kogi guber: Huge number of APC aspirants is due to my efforts, says Gov Bello It was reported that the director-general of the NCDC, Chikwe Ihekweazu, said this during the briefing of the COVID-19 Presidential Task Force on Monday, July 13.
He explained that before now the virus was believed to only be transmittable through droplets that emanate from the nose and the mouth and fall to the ground. Ihekweazu, however, stated that studies of new infections show that the disease may also be airborne.
In another report, Professor Peter Okebukola, a former executive secretary of the National Universities Commission (NUC), expressed support for the sudden U-turn by the federal government not to allow Nigerian candidates to participate in 2020 West African Examinations Council (WAEC) which has been fixed for between August 3 and September 5.
He said this was not the ideal date as it was still unsafe for Nigeria to reopen schools either gradually or wholly, let alone allow the students to gather for any exam.
Buhari condemns Tiv, Jukun clash The coronavirus pandemic at the moment in the country is critical based on the rising statistics and the opinions of health experts, and great caution must, therefore, be taken.
He said it would not do the country any good to expose students to the health hazards associated with the virus. Okebukola, who is a professor of science and computer education said even at that students would need a minimum of six weeks of revision when back in schools to prepare well for any external exam having been home for about four months, otherwise, there would be mass cheating and failure in the exams.
Read more: https://www.legit.ng/1347255-edo-election-obaseki-finally-speaks-relationship-buhari-poll.html